Hydrolox Screens Provide 316(b) Compliance and Improved Condenser Performance at Dairyland Power
Case Study
Dairyland Power
Location
Alma, Wisconsin USA
Solution
Fish Recovery and Return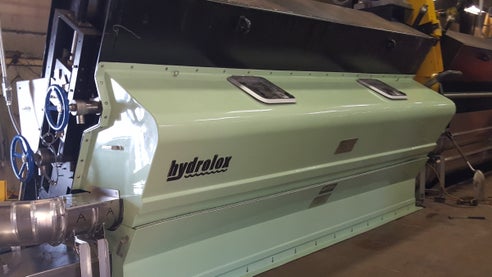 Customer Objectives
Owned by Dairyland Power Cooperative, John P. Madgett (JPM) Station is a base load coal-fired thermal power station with oncethrough cooling. The single unit station was built in the late 1970s along the Mississippi River and has a generating capacity of 400 MW.
Dairyland Power wanted to install cooling water intake screening  at JPM Station that would comply with Section 316(b) of the Clean Water Act and operate continuously. Dairyland Power also wanted screens that would lower the maintenance at its screen house  and reduce debris carryover. The existing steel chain-driven basket screens required a lot of maintenance, allowed excessive debris carryover into plant condensers (which reduced their efficiency), and were not 316(b) compliant.
Hydrolox Execution
Dairyland Power began discussions with several major screen manufacturers and narrowed it down to two. After touring both vendors' facilities and installations of water intake screens running continuously, they chose Hydrolox screens due to the overall total cost of ownership, among other factors.
Since we've installed the Hydrolox screens, all five of our condenser performance parameters are better. The new screens do a much better job of keeping debris out of the condenser.

Marty Wenger
John P. Madgett Station Site Engineer
In April 2017, four Hydrolox Series 6000 fish recovery and return screens (16 ft wide by 41 ft, shaft to shaft) were installed. The screens were designed specially to be installed in sections in  order to fit though the screen house door. 
Results
Dairyland Power is pleased with the improvements it has seen in reliability and performance. Since the installation of the Hydrolox water intake screens, there has been no unexpected maintenance to date. JPM Station has experienced a significant reduction in both maintenance and carryover, and has received Best Technology Available (BTA) status for 316(b) compliance.
An unexpected benefit is that Dairyland Power has seen improvement in all major parameters it uses to measure condenser performance: back pressure, heat transfer coefficient, cleanliness, circulating water velocity, and circulating water flow. In addition,  the number of required condenser cleanings has been reduced.
0
unexpected maintenance or downtime